2015 Holiday Gift Guide
#SassyHolidays

SassyGalBeauty is proud to introduce the second annual #SassyHolidays #HolidayGiftGuide2015.

Last year's guide was a roaring success and so while I've been away from blogging for awhile, I wanted to definitely bring my readers a great Holiday Gift Guide filled with wonderful gift ideas as well as
Be sure to bookmark this page and subscribe for updates on all the latest gift ideas for this holiday season!!

TO View The #SassyHolidays #HolidayGiftGuide2015 on Pinterest:


QUEEN: GIFT IDEAS FOR HER
FIT FOR A KING: GIFT IDEAS FOR MEN
ALMOST GROWN: GIFT IDEAS FOR TEENS


HOLIDAY TINSEL: Holiday Decor & More
GRAB BAG: MISC GIFT IDEAS
Grab Bag: Misc. Gift Ideas
UNPLUGGED: GIFT IDEAS TO GET YOU MOVING
WIRED: GIFT TO KEEP YOU PLUGGED IN
Wired: Gift Ideas to keep you plugged in


Looking for MORE Great Gift Ideas?
Checkout these Holiday Gift Guides: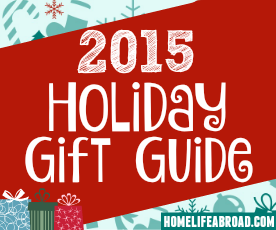 Visit: Homelifeabroad.com
For Brands & Businesses:
Learn More: Click Here to have your product featured.
Click Here for more information regarding the 2015 Holiday Gift Guide